Press release- 29 April 2016
EU MUST CONDEMN THE INCREASING REPRESSION IN IRAN
Friends of a Free Iran intergroup, which has enjoyed the support of over 200 members of the European Parliament from different political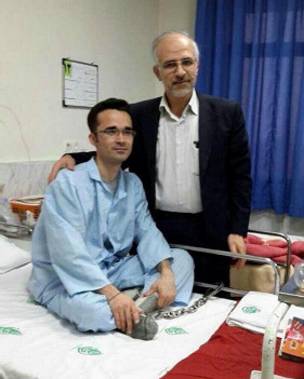 groups,  strongly condemns the increasing trend of executions, inhuman treatment of political prisoners and jailing of journalists in Iran.
Iranian regime hanged at least 10 people in prisons since the weekend, in what has been described as a new wave of executions. Among the latest cases was the execution of eight Iranian Baluchis in Zahedan Prison on Saturday and Tuesday. According to reports, at least six other death-row prisoners in Ghezelhesar Prison in Karaj, north-west of Tehran, were transferred on Wednesday 27 April to solitary confinement for their imminent execution.On Wednesday 27 April, a group of United Nations human rights experts warned that "over a dozen political prisoners in Iran, including some prominent human rights defenders, lawyers and political activists, are at risk of death in detention due to their worsening health conditions and the continued refusal by the Iranian authorities to provide them with medical treatment."
Dr Omid Kokabee, 34, an Iranian physicist and a postdoctoral student in atomic physics was arrested in Iran after returning from the United States to visit his family in January, 2011. He was sentenced to ten years in prison. Amnesty International has said that Kokabee is a prisoner of conscience and held solely for his refusal to work on military projects in Iran.  He had been diagnosed with kidney cancer and his right kidney was removed few days ago. The photo of Omid Kokabee, chained to a bed in hospital after the surgery, has shaken many in Iran and in the scientific world.

Iranian authorities have acknowledged that 12,000 ethnic Iranian Kurds were imprisoned in Iran in the last Iranian calendar year, which ended March 19, 2016.
A woman was flogged in public in Golpayegan, central Iran on 27 April. The woman, who was only identified by her initials S. T., was given 100 lashes, state media reported.
We were shocked to hear that four journalists were sentenced to a combined total of 27 years of jail, on Tuesday 26 April. Ms Afarin Chitsaz was sentenced to 10 years; Mr Ehsan Mazandarani was given a seven year sentence; Mr Davood Assadi and Mr Ehsan (Saman) Safarzaie were each handed down a five year sentence. The four detained journalists previously wrote for state-run media in Iran. They were arrested on November 2, 2015 in raids on their homes by intelligence agents of the Revolutionary Guards who accused them of spying for western governments.
The increasing trend of executions and human rights violations indicates that the recent visits of senior European officials to Iran, without making any public condemnations of human rights violations are used by the mullahs' regime as means to legitimise its internal as well external brutal and unacceptable actions. That is the reason why we once again urge the European leaders to publicly condemn the human rights violations in Iran, as this is what the people of Iran expect from Europe. Any expansion of relationship with Iran must be conditioned to a halt of executions and a clear progress of human rights.
Gérard Deprez MEP
Chair, Friends of a Free Iran
European Parliament
Brussels